Mark Bego is the author of 61 books on rock & roll and show business, including two "New York Times" Best Sellers, a "Los Angeles Times" Best Seller, and a "Chicago Tribune" Best Seller, three multi-million-sellers, and two half-million selling titles. With over 12 million books in print, he is acknowledged as the best-selling biographer in the rock and pop music field. His biographies have included the life stories of some of the biggest stars of ROCK (Elton John, Billy Joel, Elvis Presley, Michael Jackson, Madonna, Bonnie Raitt, The Doobie Brothers, Three Dog Night), SOUL (Aretha Franklin, The Supremes, Martha Reeves & The Vandellas, Tina Turner, Whitney Houston), POP (Sonny & Cher, The Monkees, Sade, Barry Manilow), and COUNTRY (Glen Campbell, George Strait, Patsy Cline, Alan Jackson, Vince Gill). He has also written about film and television stars as well (Rock Hudson, Julia Roberts, Linda Gray, Leonardo DiCaprio, Will Smith, Matt Damon, The Marx Brothers).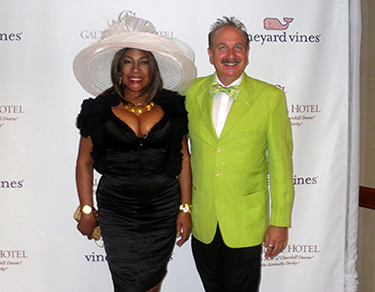 Mary Wilson and Mark Bego at Kentucky Derby 2014, Louisville.
On the subject of his and Debby Campbell's new book, "Life with My Father: Glen Campbell" (Omnibus Press), Bego said, "I have never written such a compelling and deeply personal story about a show business family prior to helping Debby tell her story. Most people don't realize that Glen has eight children from four separate marriages. As the oldest of his children, Debby has had the longest and most successful run of close personal time with her father. For 24 years she was Glen's duet partner in his stage act, often traveling around the world with him."
Things began to shift in Glen Campbell's life after being diagnosed with Alzheimer's disease. Furthermore, his fourth wife Kim championed Debby Campbell's firing from the touring troupe. "In this frank and compelling memoir, Debby tells everything in a riveting fashion that makes for an exciting page-turner," Bego said. The initial response has been so strong in its European / Australian release that, in May of 2014, it won an award in The Paris Book Festival. "Life with My Father" will be released in the U.S. by the Overlook Press in September of 2014.
Mark Bego along with his collaborator and close friend, Mary Wilson, have found themselves launching a new food blog and cooking website called "Mark Bego Cooks / Cook Like a Rock Star." The blog is soon to become an all-star cookbook.
In 2012 and 2013, Bego returned to the magazine business to write and edit two special edition newsstand magazines: "50th Anniversary Celebration: My Supremes, Mary Wilson" and "DiCaprio: Star of the New Great Gatsby Film." The Supremes tribute magazine commemorated the 50th anniversary of "Meet the Supremes," an album recorded by Motown Records.
In fact, it was The Supremes magazine that first found Mary Wilson and Mark Bego cooking, photographing, and sharing recipes. Bego reminisced, "That was the inspiration for the new cooking blog and the projected book, "Cook like a Rock Star," that Mary and I are compiling."
In 2012, Mark released his first work of fiction, "Murder at Motor City Records." According to Bego, "I always wanted to write a murder mystery that combined my love of similar books by Agatha Christie ('Murder on The Orient Express'), James M. Cain ('The Postman Always Rings Twice') and Dashiell Hammett ('The Thin Man'). I invented my own detective, Marcus Rusk, and placed him in the middle of one of my favorite show business worlds: the music business in Detroit circa 1960's to 1990s. It's Agatha Christie meets Motown!"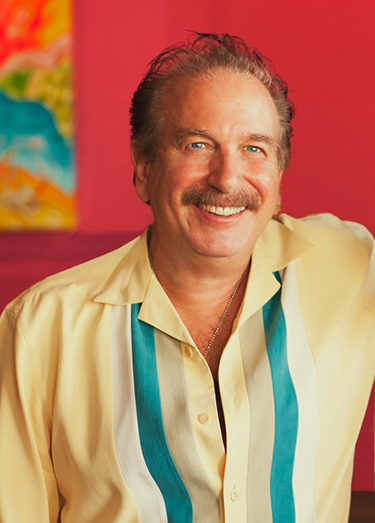 In March of 2012, Skyhorse Books released two of Bego's works that were third inceptions of his biographies on Whitney Houston and Aretha Franklin. "Aretha Franklin: Queen of Soul" got its third version. It only seemed appropriate since its release coincided with Franklin's 70th birthday. Whitney's biography was instantly updated and released due to her sudden and untimely death in February of 2012. Bego's book, "Whitney Houston: The Spectacular Rise and Tragic Fall of the Woman Whose Voice Inspired a Generation," is now one of his most widely read global hits. It has been released in the United States, Canada, England, Australia, Germany, Switzerland, Australia, Brazil, China, and Russia. In China alone, the book sold over 110,000 copies in its first months' release in late 2013.
In 2011 Mark Bego wrote the autobiography of Freddy Cannon entitled "Where the Action Is." According to Bego, "I was thrilled to have the honor of telling the story of one of the original rockers: Freddy Cannon. I grew up listening to his hits like 'Palisades Park,' 'Tallahassee Lassie' and 'Where the Action Is!' Cannon was one of the original teen idols as well as one of Dick Clark's favorite singers of the 1950s and 1960s. I was so honored when Dick Clark himself wrote the Introduction to the book."
In 2010, Mark Bego wrote "Paperback Writer," a memoir celebrating his years venturing in the world of rock & roll. Some of the co-stars in his book include Michael Jackson, Madonna, Debbie Gibson, Micky Dolenz, Jimmy Greenspoon, Katherine Hepburn, Prince Albert of Monaco, Aretha Franklin, Billy Joel, Martha Reeves, Angela Bowie, Bill Wyman, Barry Manilow and his greatest adventure partner: Mary Wilson.
One of the most exciting books of Bego's career is his 2009 biography on Elton John. The book was released in June of 2009 by Hannibal books of Austria. Published in the German language under the title "Elton John: Die Story," it has been heralded in the media as "the ultimate Elton John" biography by "Manner Magazine." The book was published by Phoenix Books in America under the title Elton John: The Bitch is Back (October 2009), and in England and Australia with the title "The Elton John Story" from JR Books in London. It has also been published in Denmark and in Russia as well.
Thanks to Hannibal Books, Mark had a great 2009 in German language bookstores. As he explained at the time, "Not only has Hannibal published my "Elton John: Die Story," they are also publishing the German language reprint of my Tina Turner book, under the title "Tina Turner: Die Biographie." In addition, they also published a German language exclusive: "Whitney Houston: Die Biographie." All three books are available internationally through German Amazon.com and they were also distributed to bookstores throughout Austria, Germany and Switzerland.
In June of 2009, when Michael Jackson suddenly died, Bego was seen on ABCNews.com reporting on The King of Pop. On the day of Michael's funeral, Mark was again seen on ABCNews.com commenting on the event.
Mark's association with Michael Jackson began with his 1984 biography of Michael Jackson, "Michael!" (Pinnacle Books). Released the week that Jackson caught his hair on fire filming a Pepsi commercial, Michael! sold three million copies in the United States alone. It was published in seven languages, and it spent six weeks in the Top Ten of The New York Times best-seller list, and the Los Angeles Times best-seller list. He followed it up by attending 30 of The Jacksons sold-out "Victory Tour" shows to yield the million-selling "On The Road With Michael!" Mark was the first person to discuss Jackson's weird fascination with plastic surgery on national television, on "Thicke of The Night." According to Bego: "Michael's death was a true tragedy, and he will always be remembered as one of the biggest talents of the 20th Century."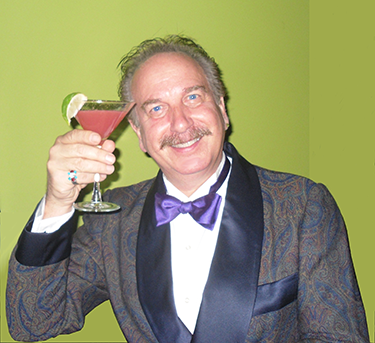 In 2009 Mark filmed his role as one of the stars of the movie The Assassin Bureaucrat, a new movie by Sergio Kardenas. In the film Bego and actress/author Angela Bowie portray the parents of an axe and chainsaw murderess. "The Assassin Bureaucrat" which won the People's Choice Award at The Tucson Independent Film Festival. As Bego explains, "Angie and I have been friends since 1976, and we have appeared on television together in the past. When Sergio cast us as 'Ward' and 'Helen,' it was a wonderful opportunity, and we are both excited about appearing in the film."
BMark also wrote the liner notes for new 2009 two-disc compilation album by The Supremes & The Four Tops: "Magnificent: The Complete Studio Sessions." According to him, "In the early '70s three of my favorite Motown albums were done by the pairing of The Supremes and The Four Tops, the first one being entitled 'The Magnificent Seven.' They scored a huge international Top 10 hit with their version of River Deep Mountain High. I was honored to be asked by Andy Skurow and Harry Weinger of Motown Records to write the essay contained in this package. I also had a great time interviewing Mary Wilson, Cindy Birdsong and Duke Fakir for the project. The music is incredible, especially the song 'Gimme Some Lovin'' which the public has never heard until now." The deluxe album contains over a dozen never-before-released songs.
One of the most unique books that Mark has written is "One Minute Before Midnight," which is a memoir by Ruth Mueller. According to Mark, "I have known Ruth for 30 years and I have always admired her. In her 90s she is a remarkable character with incredible energy, and a compelling life history. Not only did she escape from Nazi Germany in 1939, but since that time she became known as one of the most successful businesswomen in Manhattan. She had an affair with the owner of a very powerful company in New York City, and by the time she had finished her career, she owned the company." "One Minute Before Midnight" was published in fall of 2009.
In 2008 Bego teamed with Randy Jones, the original cowboy for The Village People to write "Macho Man: The Disco Era and Gay America's Coming Out." A hardcover book about gay men and women throughout history, the book was published by Greenwood Books. According to Mark, "Originally, Randy and I were trying to sell his autobiography, but instead we were challenged to write more of a sociology book. We examine gay characters through history, and the majority of the book spotlights the 20th Century, The Village People, and gay pop culture. I am honored to announce that the book is in libraries around the world, from Manhattan to Hong Kong."
Mark's 50th book "Billy Joel: The Biography," was released in 2007 (Thunder's Mouth Press in America, JR Books in Britain). Amongst the dozens of Joel intimates and media experts interviewed for Bego's comprehensive biography of "The Piano Man" include the three key former members of Joel's hit-producing band: Liberty DeVitto (drummer), Richie Cannata (sax player), and Russell Javors (guitar). In addition, Bego also interviewed several media stars including Mary Wilson, Micky Dolenz, Melanie, Lou Christie, Lala Brooks (The Crystals), Randy Jones (Village People), and Debbie Gibson. Some people love Billy, some people hate him, and they all have a voice in "Billy Joel: The Biography."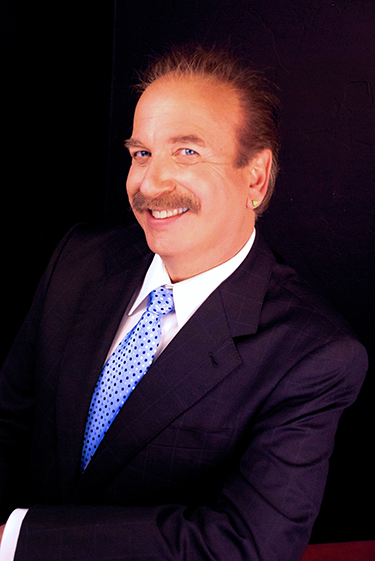 In 2006 Mark branched out in the authorized autobiography field by writing a compelling good with noted psychic-to-the-stars, Yolana Bard. Their collaboration became the critically acclaimed book, "Yolana: Just One More Question." (Putnam Books).
Bego's two 2005 rock-star biographies were "Jackson Browne: His Life and Music" (Kensington Publishing) and "Joni Mitchell" (Taylor Books). According to Mark, "I am thrilled to have Jackson and Joni as two of my book subjects. Their careers are intertwined with each other, and with several of my other books as well. Bonnie Raitt has recorded many of Browne's songs in the past, and Joni wrote one of her most controversial songs, 'Not to Blame,' about Jackson's headline-making break-up with Daryl Hannah. There isn't a current female rock performer on the charts who has not listed Joni Mitchell as one of their strongest influences." A painter for many decades, Mark's book on Joni also contains his own original portrait of the famed singer.
As Martha Reeve's collaborator on her best-selling autobiography, Mark was a natural choice to pen the liner notes for the new 2005 Motown Select album: "Martha Reeves & The Vandellas: SPELLBOUND / Lost & Found." The two disc set contains over 40 previously unreleased songs by Martha & her Vandellas. The album is available for purchase through MotownSelect.com. Mark also wrote the liner notes for 2006's "Martha Reeves & The Vandellas" GOLD CD (Motown / Universal Music).
In 2003 Taylor Publishing released his hardcover biography "Tina Turner: Break Every Rule." So much had happened in Tina's fascinating life since she released her own autobiography two decades previous, that the time had finally come for a book that encompassed her entire career-right up through her record-breaking 2000 concert tour in the year 2000, and beyond. In 2013 it was released in Poland, and in 2014 it was released in Estonia.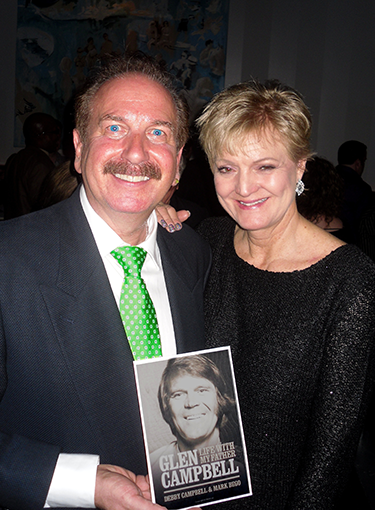 Mark Bego and Debby Campbell at Nic's Martini Lounge, Beverly Hills, California.
Bego also wrote the book "Fike: Uncommon Journey." It was poised to be one of the most unique and controversial Elvis Presley-themed biographies ever written. It is an in-depth memoir of of one of Elvis's closest friends and confidantes, Lamar Fike. For 23 years was a key figure in the legendary Presley entourage: The Memphis Mafia. Lamar refers to this gather of a dozen Elvis disciples as "The Group." In addition, Fike: An Uncommon Journey also encompasses Lamar's association with Errol Flynn, Marilyn Monroe, Sammy Davis Jr., Frank Sinatra, Bob Dylan, Brenda Lee, Patsy Cline, Dean Martin, Rock Hudson, Joan Crawford, and Elizabeth Taylor, to name a few. He and David Stanley turned the book into a movie screenplay entitled One of The Boys: '57 to '60 which Mark describes as: "The original 'Entourage,' with Elvis in the middle of the action." Unfortunately, the book was never published, and Fike died in 2011.
Bego's "Bette Midler: Still Divine" hit bookstores in the fall of 2002. It is a fully expanded version of his 1986 book Bette Midler: Outrageously Divine. Amongst the people interviewed and included in the new book are Barry Manilow, and the composers of her signature song—Friends—Buzzy Linhart and Moogy Klingman, and producer Brooks Arthur. It also features an introduction penned by Rita Coolidge.
"Cher: If You Believe" (2001) started out as an update of Mark's 1986 biography "Cher!" (Pocket Books), but it was expanded into a new hardcover biography which encompasses Cher's emergence as an Academy Award-winning actress (Moonstruck), Sonny Bono's tragic 1998 death, and her 1999 major comeback with the hit single Believe. After the death of Sonny Bono in January of 1998, Mark was seen on Sally Jesse Raphael during their tribute to the pop icon. Also in 2001, Oldcastle Books in London, England published Mark's guide to the films of "The Marx Brothers."
Madonna has been one of Mark's most famous-and most frequent-book subjects. His 1985 biography "Madonna!" (Pinnacle Books) sold a million copies, as the first book on the singing sensation. In 1992 Harmony Books published Mark's biography "Madonna: Blonde Ambition," based on his personal interviews with Madonna and several of her intimate friends. Swept up in the controversy of Madonna's "Sex" book, Mark appeared on several national television shows, discussing the whole Madonna phenomenon, including: "The Joan Rivers Show," "Maury Povich," "Hard Copy," "Faith Daniels," and "Entertainment Tonight." Bego is the on-camera host of the 1993 hour-long biographical video cassette entitled "Madonna: The Name of The Game." He is also featured on the A&E network's "Biography" series about the life of Madonna which has been frequently aired since its debut in 1993. In 2006 he was on the Aretha Franklin and Tina Turner episodes of the program.
Mark's 2000 "trade" paperback version of "Madonna: Blonde Ambition—Updated Edition" features nearly 100 more pages, following the former Material Girl into her starring role in the award-winning film musical "Evita," motherhood, and her first new projects of the new millennium—including the film Next Best Thing and the international hit American Pie.
Mark Bego has written his first full-length novel, a music industry murder mystery entitled Motor City Murder It is set in a record company, it has the excitement and glitziness of Motown in its heyday, in a fictional setting. This was originally to be a project with Mary Wilson.
In social critic Camille Paglia's 1994 hit book, "Vamps and Tramps," she devotes an entire chapter to Bego and his Madonna: Blonde Ambition. According to Paglia, "The strongest of several biographies [on Madonna] is by Mark Bego, Madonna: Blonde Ambition...Bego is the author of more than twenty celebrity biographies, many of whose subjects have been singers—among them Barry Manilow, Michael Jackson, Whitney Houston, Cher, Bette Midler, and Aretha Franklin. Madonna: Blonde Ambition profits from his deep familiarity with the modern music industry, whose commercial dynamic he understands without condemning or excusing it."
In social critic Camille Paglia's 1994 hit book, "Vamps and Tramps," she devotes an entire chapter to Bego and his Madonna: Blonde Ambition. According to Paglia, "The strongest of several biographies [on Madonna] is by Mark Bego, Madonna: Blonde Ambition...Bego is the author of more than twenty celebrity biographies, many of whose subjects have been singers—among them Barry Manilow, Michael Jackson, Whitney Houston, Cher, Bette Midler, and Aretha Franklin. Madonna: Blonde Ambition profits from his deep familiarity with the modern music industry, whose commercial dynamic he understands without condemning or excusing it."
His full-color illustrated biography of the hottest male movie star of 1998: "Leonardo DiCaprio: Romantic Hero" (John Boswell / Andrews McMeel / 1998) became a Top Ten "New York Times" Best-Seller when it was released in April of 1998. It was also published in several foreign editions, including German, Italian, Japanese, Korean, Portuguese, Slovenian, and British.
Mark followed up the success with the Leonardo DiCaprio book on two more full-color biographies also published by Andrews/McMeel: "Matt Damon: Chasing A Dream" (September 1998) and "Will Smith" (October 1998). Also debuting in the bookstores in 1998 was Bego's biography of Alaskan-born folk singer "Jewel" (Music Sales Press).
Eight of his books are the colorful life stories of a pair of the hugest stars of country music, including: "Alan Jackson: Gone Country" (Taylor Publishing/1996) and "George Strait: The Story of Country's Living Legend" (Kensington/ 1997), and in his biography of "LeAnn Rimes" (St. Martin's/1998). His "Vince Gill," joined the list in 2000 (Renaissance Books). His 2014 book with Debby Campbell, her memoir, "Life With My Father: Glen Campbell," follows in this tradition.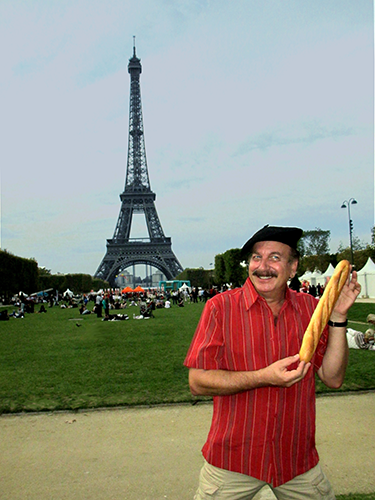 His 1995 book "I Fall to Pieces: The Music and The Life of Patsy Cline" (Adams Media Corporation), dealt with the life of the most beloved country singer of all times. According to "Country Weekly" magazine (August 29, 1995), "Mark Bego never fails to keep the tragic but triumphant Patsy Cline at the center of his focused look at the passionate artist and her extraordinary life...'I Fall to Pieces' is engrossing, informative...and entertaining." E! Entertainment Network On-Line, in the fall of 2000 named Mark's Patsy Cline biography, "I Fall to Pieces: The Music and the Life of Patsy Cline" one their Top Ten Best Music Biographies of all-times.
Mark's 1996 reference book "Rock & Roll Almanac" was released in by Prentice Hall. It is a combination of fascinating facts ("Every Pertinent Rock & Roll, Pop, and Soul Grammy Winner; Rock & Roll Hall Of Fame Inductees, Rock & Roll Birthdays,) off-the-wall lists (The 10 Juiciest Rock & Roll Scandals, The Most Famous Rock Festivals, Best Cross-Dressing Rock Stars), as well as biographies of 14 Of The Most Important Acts In Rock History (The Beatles, Elvis Presley, The Supremes, Joni Mitchell, Fleetwood Mac, and nine others). Bego was seen discussing the book on national television on ABC-TV's "Day and Date" in May of 1996.
In November of 1996, Mainstream Publishing of Edinburgh, Scotland released Mark's book "Raised on Rock: The Autobiography" of Elvis Presley's Stepbrother with David Stanley. It contains a first hand look at what it was like to grow up in rock & roll's most famous dysfunctional family-starting with Elvis, and concluding with the bizarre marriage of David's step-niece, Lisa Marie Presley, to Michael Jackson.
Mark's biography "Bonnie Raitt: Just In The Nick Of Time" was published by Birch Lane Press in December 1995. The very first biography on the fascinating life of nine-time Grammy Award winning Raitt, Bego's biography features an in-depth look at the singer's triumph over drugs and liquor, and her 20-year rise to the top of the charts. The book includes an introduction by Bonnie's lifelong idol, Joan Baez. Bego was seen on national television, on "Geraldo" in April 1996, discussing Raitt's fascinating life, and on CNN's Show Business Today talking about his book. In July 1996, B&B Audio released "Bonnie Raitt: Just In The Nick of Time" as a two cassette book-on-tape, as read by Mark Bego. An updated version hit the stores in early 2003 from Cooper Square, under the title "Bonnie Raitt: STILL In The Nick of Time."
Hyperion books released Bego's collaboration with Martha Reeves of Martha & The Vandellas, "Dancing In The Street: Confessions of A Motown Diva" in 1994, and it spent five weeks in the Top Ten of "The Chicago Tribune" hardcover Best Seller list. It was released in August 1995 in a trade paperback edition. In its review of the book, "The New York Times" found it "filled with loving affection, the requisite amount of score settling and many stories...about Motown...told with good humor." "Publisher's Weekly" proclaimed it "Poignant...Reeves recounts both the excitement and the energy of Motown in its heyday...she emerges as a stoic and likable survivor!"
Mark worked with Micky Dolenz of The Monkees, on Dolenz' autobiography, I'm A Believer: My Life of Music, Monkees and Madness. Published in 1993 by Hyperion Books, the book traces Dolenz' life and career from TV's Circus Boy, through the three decade Monkees saga. It has become the biggest selling book on the beloved 1960's rock & roll phenomenon of a group. USA Today described the book as "Memorable Monkee-shines...[a] primal scream!" "Booklist" found it "surprising" and "star-studded." In 2004 a new edition was released with an updating chapter by Mark, from Cooper Square.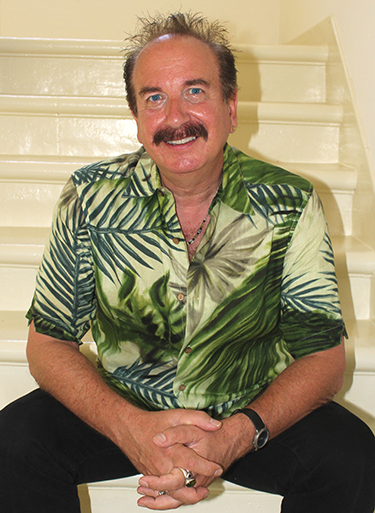 Known throughout the 1980's as a top writer of "unauthorized" pop bios, at the end of the decade he made the transition into celebrity collaborations. In 1989-1990 he worked with teenage star Debbie Gibson, penning her autobiography, "Between The Lines." Also in 1990 he was one of the writers to assist Mary Wilson of The Supremes on her book "Supreme Faith: Someday We'll Be Together." During this same era, Bego teamed up with Jimmy Greenspoon, the keyboard player for legendary rock group Three Dog Night, yielding the book "One Is the Loneliest Number" (Pharos Books/1991). The compelling story of a dramatic life lived behind the scenes in rock & roll. In it Greenspoon also chronicled his ten-year heroin addiction.
In 1986 he also wrote the first published book on movie star Rock Hudson. Bego's "Rock Hudson: Public & Private" sold half a million copies when it was released in 1986.
Also in 1986, PaperJacks Books published his "TV Rock," the history of rock & roll on television. His other books include "Whitney!" [Houston], "Sade!," "Julian Lennon!," "The Linda Gray Story," and several more. His biography of rap star "Vanilla Ice, Ice Ice Ice: The Extraordinary Vanilla Ice" sold over half a million copies when it was published by Dell in 1991.
Throughout the years, Mark's writing has appeared in several magazines, including "People," "US," "The Star," "Celebrity," "Cosmopolitan," "Penthouse," "Billboard," "Record World," and "The National Enquirer." From 1978 to 1980 he was the Nightlife Editor of New York City's "CUE" magazine, covering all of the hottest jazz clubs, discos and nightclubs. He also wrote cover stories in "Cue" magazine from his interviews with Cher, Rod Stewart, and Donna Summer. From 1983 to 1985 he was the Editor-In-Chief of "Modern Screen" magazine. From 1996 to 1997 Mark was the Film Editor for country music's "TWANG" magazine. Bego's book "The Best of Modern Screen" (St. Martins Press/1986) took a look at Hollywood in its heyday, from the 30s to the 50s, and featured an introduction by Debbie Reynolds.
Mark divides his time between New York City, Los Angeles, and Tucson, Arizona.